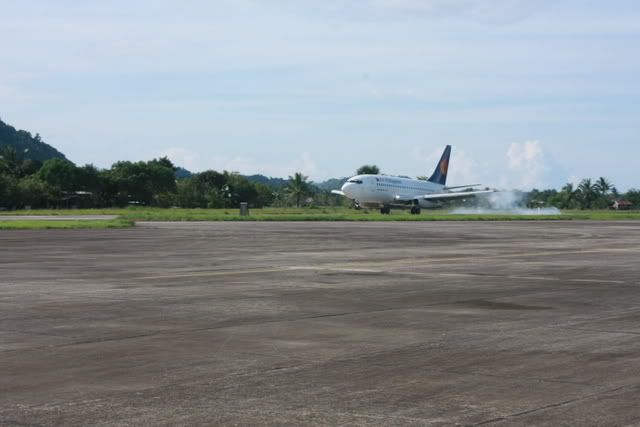 Low Cost Carrier Air Philippines arrived late in Surigao but still on time for the summer period in the western world as it will start daily service instead of 4 times a week schedule originally slated in March this July 1st.


The airline founded in 1995, will substitute PAL Express Q400 service and operates on code share agreement with Philippine Airlines.

A Boeing 727-200 jet aircraft, which seat 118 passengers in a monoclass layout, will be deployed on the route. AirPhil will start daily jet service between Manila and Surigao starting July 1, 2009. Flights from Manila will depart 8:45 am, arriving Surigao at 10:15 am. The return flight leaves Surigao airport at 10:45 am and lands in Manila 12:15 pm. It operates at the new Terminal 3.

Air Philippines President & CEO Capt. Edilberto R. Medina said that it concluded a probing flight to Surigao City on 16 February and while they intend to launch flight there as originally scheduled some unforseen technical circumatances were going there way which prompted them to delay the service. The culprit seems to be the airport's preparedness to handle a jet flight and training of some CAAP personnel to emergency situation.

Surigao will becomes Air Philippines' 9th domestic destination in the airline's expanding route network based at hubs in Manila and Cebu. The airline has recently suspended its commercial operations to three major Mindanao cities in July last year and reduced much of its frequency for its main Visayas-Mindanao service due to massive losses and intense competition with Cebu Pacific.

The airline took off its last flight to Ozamiz City last June 14, 2009 to give way to its sister company, Philippine Airlines. In a press release, AirPhil. decided to leave Ozamiz after observing the city's rapid economic expansion that requires bigger aircraft to accommodate the growing volume of air travelers and cargo.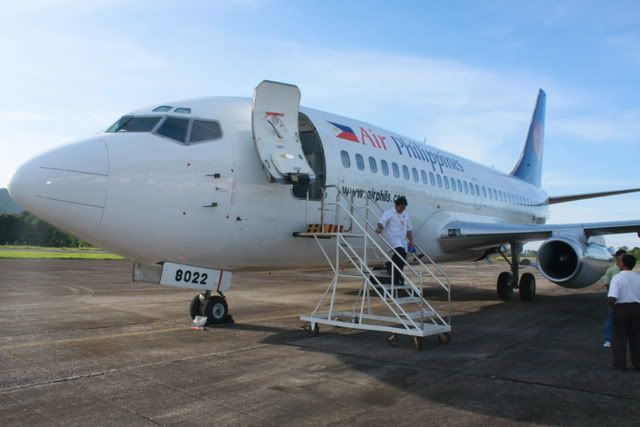 Airline industry sources however said that the entry of Cebu Pacific's direct Manila service paved the way for its eventual exit based on its experience at the Dumaguete Airport.

The source said the airline' cannot anymore justify fuel bill as the cause but have to contend with heavy competitions from both Cebu Pacific and Zest Airways which are introducing newer and better aircraft at the same charging fare at a lower cost, and passenger awareness to choose to ride newer and better planes.

Air Philippines fare was considerably higher than Cebu Pacific and Philippine Airlines flight from Dipolog which prompted other passengers to ride from Dipolog airport instead while others contend themselves of booking early for the Cebu stops.

The airline has been hit particularly hard by high petroleum prices in 2008 because its jet fleet consists mostly of 20-year-old Boeing 737-200s, whose engines are substantially less fuel-efficient than their modern counterparts. To operate profitably, they have to maintain load consistency and pricing strategy which they can do at will while being alone in a particular market.

With impending profitability warning, the airline surrendered Ozamiz to its much bigger sister while enjoying happily at Surigao Airport. The Airbus 319 which Cebu Pacific had is not certified to fly safely at the current Surigao airport until after runway extensions and safety areas has been met.

Air Philippines fly only profitable routes in Puerto Princesa, Iloilo, Cebu, Davao, Naga, and this time Surigao while it buys time for a better market conditions but that condition is slowly being eaten by Zest Airways . It has 7 active Boeing 737-200 advance and 1 Boeing 737-300 aircraft on its fleet. Presently, it operates only 4 aircraft and grounded 4 others. Air Philippines has announced a plan to completely ground its old 737s by 2010 but deferred its implementation due to massive losses in 2008. The airline is expected to receive two A320 this year and a solid black financial performance.