Low Cost Carrier Air Philippines intends to fly Manila-Surigao 4 times weekly starting March this year. The airline founded in 1995, will substitute PAL Express Q400 service and operates on code share agreement with Philippine Airlines.


A Boeing 727-200 jet aircraft, which seat 118 passengers in a monoclass layout, will be deployed on the route. The schedule will eventually be increase to daily flight this summer.

Air Philippines President & CEO Capt. Edilberto R. Medina said that it just concluded a probing flight to Surigao City on 16 February and they intend to launch flight there as soon as possible.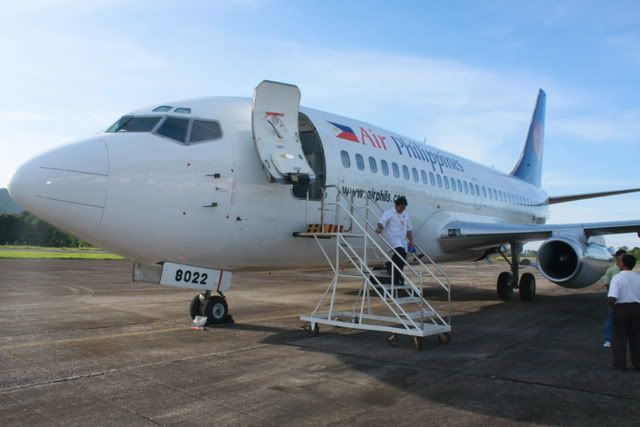 Surigao will becomes Air Philippines' 9th domestic destination in the airline's expanding route network based at hubs in Manila and Cebu. The airline has recently suspended its commercial operations to three major Mindanao cities in July last year and reduced much of its frequency for its main Visayas-Mindanao service due to massive losses and intense competition with Cebu Pacific. It canceled its services from Manila to the cities of Davao (daily), Zamboanga (daily) and Cagayan de Oro (twice daily). It also decreased flights between Cebu City and Davao City. It also reduced the frequency of its Manila-Puerto Princesa City service leaving only one daily flights for the route. It just restarted Manila-Davao late last year.

Airline industry sources said the airline's decision to cut its route network was part of cost-cutting amid the skyrocketing price of aviation fuel. The airline has been hit particularly hard by high petroleum prices in 2008 because its jet fleet consists mostly of 20-year-old Boeing 737-200s, whose engines are substantially less fuel-efficient than their modern counterparts.

The airline retained only its profitable routes and currently flies to Puerto Princesa, Iloilo, Davao, Naga, and Ozamiz. It has 7 active Boeing 737-200 advance and 1 Boeing 737-300 aircraft on its fleet. Presently, it operates only 4 aircraft and grounded 4 others. Air Philippines has announced a plan to completely ground its 737s by 2010 but deferred its implementation due to massive losses in 2008. The airline is expected to receive two A320 this year.

Air Philippines carried 913,570 passengers in 2008. It will resume twice daily flights from Cebu to Davao and Iloilo starting March 16, 2009.

(philippineairspace.blogspot.com)